Beast Super Signal [ Indicator Review ]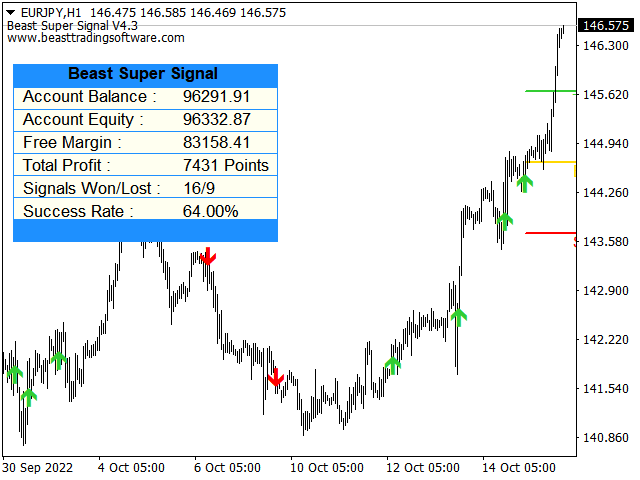 The MQL Marketplace has a category called indicators where you can find the Beast Super Signal. Below is a direct link to the indicator we are looking at. The indicator was first uploaded by Dustin Vlok on 2nd September 2018. It was updated on 5th November 2019 to version 3.5.
Beast Super Signal Overview
The Beast Super Signal is a simple, easy-to-use indicator that was created for MetaTrader 4. It will monitor current price movements and look for strong reversals or new trends when currencies are either overbought, or oversold. The indicator will only paint a buy or sell arrow on the chart when it has met all internal strategies. You are responsible for making the trade.
The Beast Super Signal gives you suggestions for entry levels, stop loss, and three different take-profit levels.
You can change a variety of parameters, including the number of bars, overbought/oversold zones, stop-loss levels, alerts, panel size, height, font type and size, as well as other options.
Service Cost
You can purchase the Beast Super Signal outright for $149. This will allow you to access it without limitations. Renting the indicator on MQL5 is also possible. It will cost $49 per month.
It is possible to download a demo version for free. Although it has some limitations, they are not stated on the website. Downloading the indicator will allow you to verify that it does what you want it to.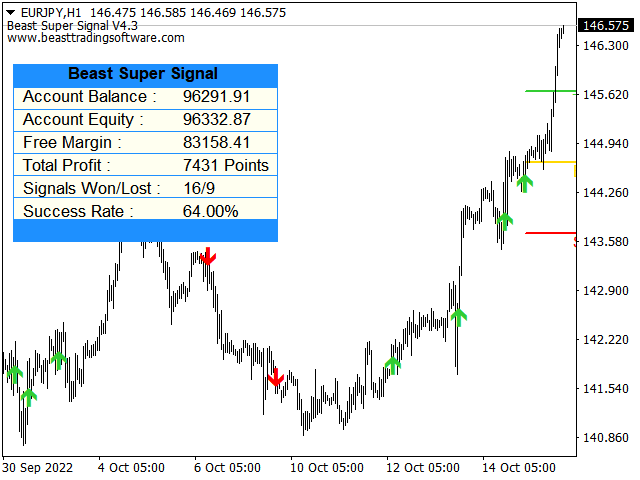 Conclusion
There are 51 reviews at the time of this writing. The overall rating is 5 out 5.
This is a very good indicator. It's very precise and the alerts are very helpful to ensure I don't miss any trades on the pairs I'm monitoring. "Great Work!" – A 5-STAR Review.
This is not a good indication in my opinion. They promise a 70 percent strike rate, but on the long run it's more like 20-40 percent. Also their method of calculation is illogical. All the 5-star ratings are useless because you will not receive the ea if you do not rate them five stars. If anyone needs proof of 1 year backtesting or so, you can contact ."- A 1-star rating.
The indicator is a great help to me when I am entering data. You are amazing for creating this indicator. Technical analysis and fundamentals can help you make 100%. If you feel the market isn't right, you can ignore the signal. Highly recommended ." A 5-star rating.
You can see that there are both positive reviews and negative ones, but the positives outweigh the bad. The developer responded to every comment individually, which shows their desire to continue supporting the indicator as well as those who have purchased it. Download the free version and try it out. Also, send any questions you may have to the developer to ensure that the indicator will work for you before you purchase or rent.
This Forex service is currently available in the MQL5 marketplace: https://www.mql5.com/en/market/product/31436