Bollinger bandwidth for MT4 measures the difference between the outer bands and the classic Bollinger bands indicator. The width of Bollinger bands increases with volatility and decreases with low volatility. The Bollinger bandwidth indicator increases with high volatility and decreases with low volatility. This indicator is usually plotted in an indicator window that acts as an oscillator.
Bollinger bands that contract indicate higher price volatility. If the Bollinger Bandwidth indicator decreases or remains flat, it will also indicate possible price changes. Forex traders can choose to sell or buy depending on bullish and bearish market conditions.
The indicator is compatible with all intraday price charts, daily, weekly and monthly price charts. This indicator allows swing traders and scalpers to trade with it. The indicator can also be used by advanced and new Forex traders. The indicator does not provide market direction, but alerts traders to upcoming market movements. To confirm the trend direction, new Forex traders should use other indicators.
The indicator uses oscillators and yellow lines to plot the values.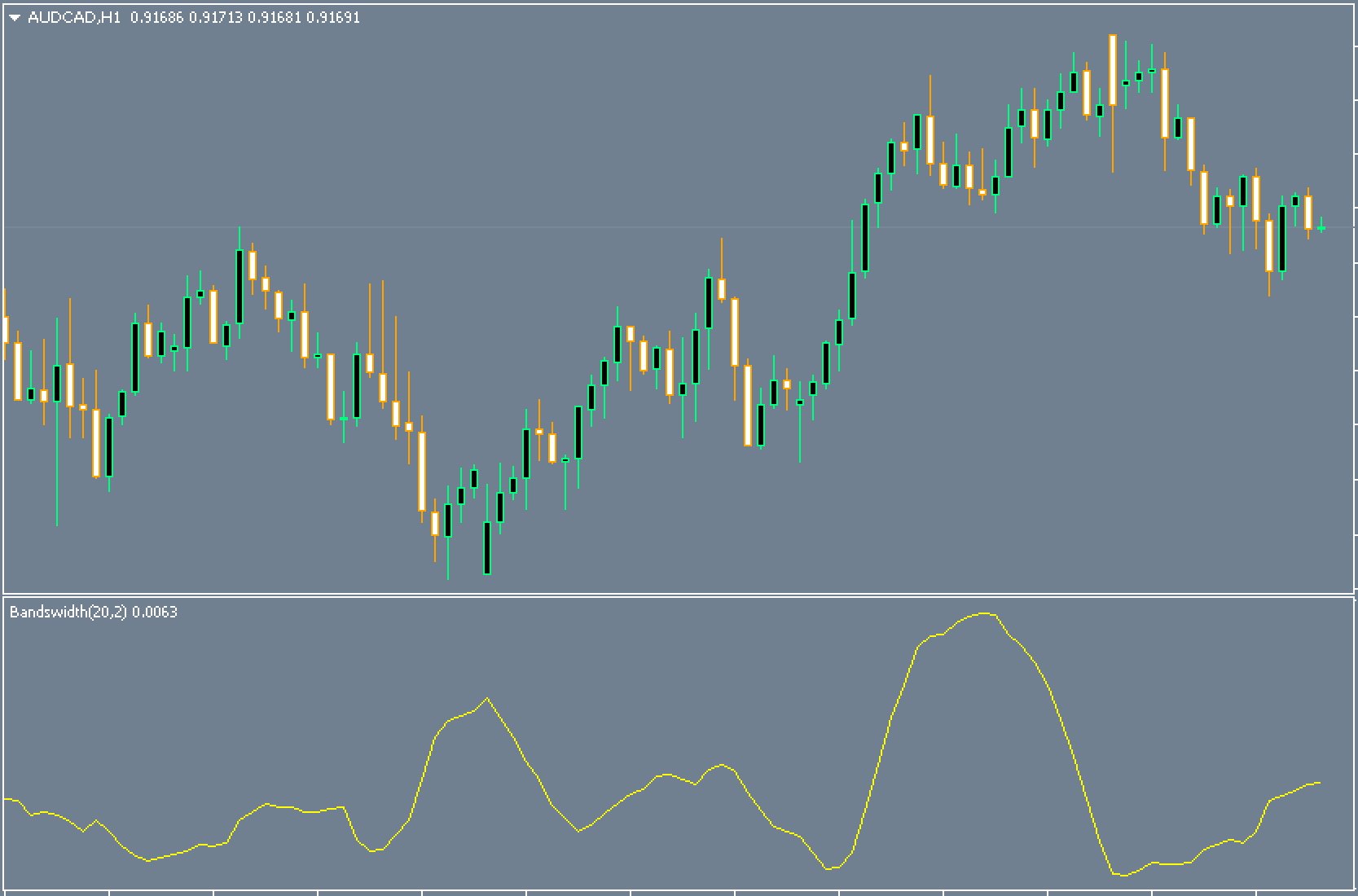 Bollinger bands are a tool that helps predict market fluctuations. John Bollinger predicts that prices will move sharply after a period of low volatility. If traders notice a drop in the value of the oscillator, this indicates that the market is looking for the next move. In order to confirm the market direction, traders should take advantage of the price behavior and trade in favor of the market.
Next, you can identify patterns such as double bottoms or double tops within the oscillator. If a double top is identified, the forex trader can sell the position. A stop loss must be placed above the top. If a double top is found, the forex trader can also place a buy order. The indicator does not provide a profit target, so traders should exit based on the risk-reward ratio.
Another trading strategy is to watch for divergences in the oscillator window and then predict the price action. Forex traders can plot trend lines on oscillators, but market direction is not provided by the breakout of these trend lines. These lines can be used to identify if volatility is increasing or decreasing. When volatility is increasing, trading opportunities are always present.
Summary
MT4's Bollinger Bandwidth provides a measure of volatility to support Forex traders who use the Bollinger Band indicator. The indicator does not provide trend direction or trade signals, so traders need to be aware of this. The indicator is available for free download and can be easily installed by traders.