Description
MT4 Banks Secret Indicator v3.5 is a Non-Repaint trading system usually being sold for 999$. This free forex indicator analyzes the price behavior on the chart every second and determines the ideal entry points based on the built-in algorithm, informing you when you need to open a deal and close it to take profit.
It catches very fast and profitable price movements and gives you easy BUY/ SELL signals By Up and Down Indication. Every trading signal is very carefully verified by the system to produce only the highest probability trades.
Please note: the multi-timeframe tool (in the top left corner) is not included.

Next, the Bank's Secret Indicator allows you to simply assess the overall market trend on different time frames without having to pull open a bunch of charts.
You've probably heard "the trend is your friend". And "you should only trade with the trend". We agree!
This feature shows you on each time frame whether the market is trending up or down.
In the picture below you can see the M1, M5, M15, M30, H1, H4, D1, W1 are all trending down. And the MN is trending up.

You probably notice these big red and blue "zones" on the chart… This feature of the BSI (bank's secret indicator" shows strong areas of supply & demand where price has sharply bounced off of in the past… no more drawing subjective support and resistance zones!

Arguably the coolest feature & most time saving feature of the BSI is the ability to get push notifications straight to your phone when your trading entry criteria is met.
This will save you from having to watch charts, and instead the the BSI analyze the charts and just send you an alert when your criteria is met.
Let's say for example, you only wanted to trade in the direction of the H1 & H4 trend, trade against the "herd" or "contra-crowd", and only get alerts when there is a Kangaroo tail candlestick formed… you simply set that up one time & you'll be alerted any time this criteria is met!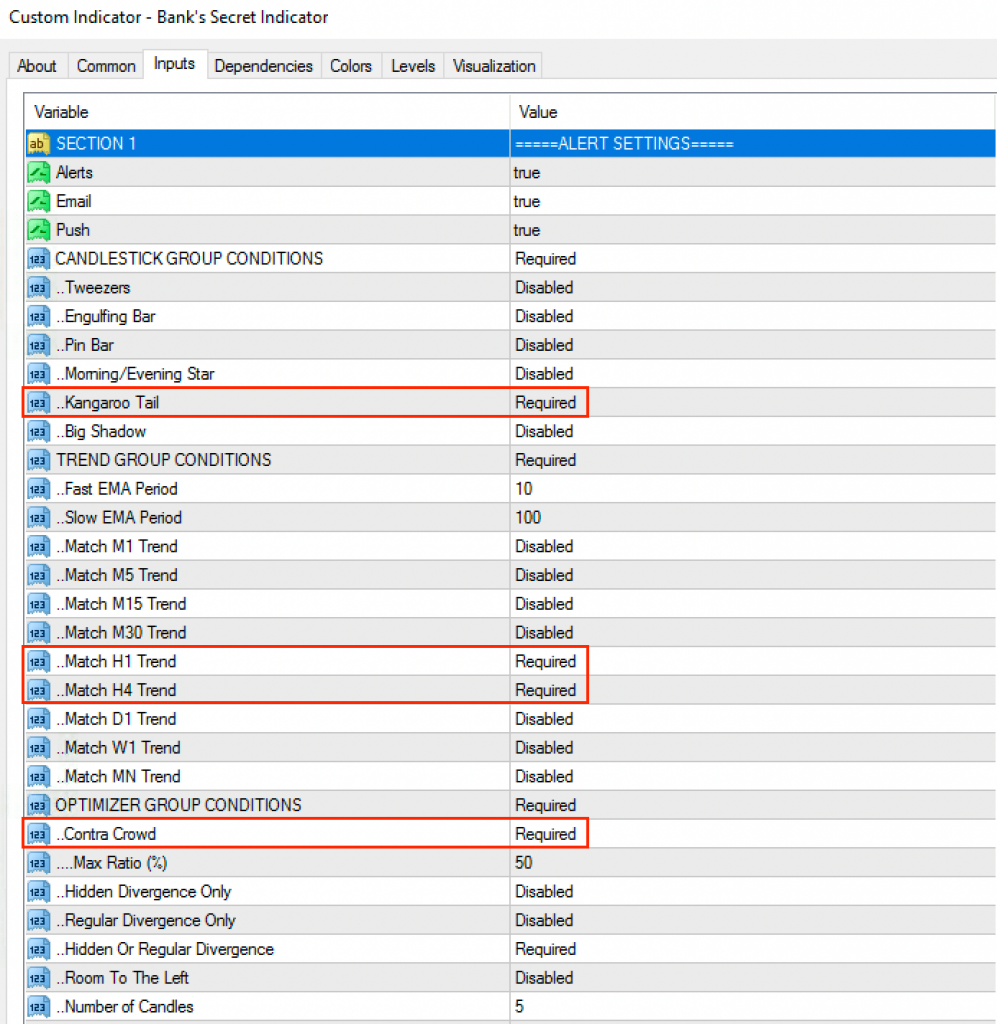 One of the last helpful features of the BSI, is the on-chart risk calculator… Just decide what percentage of your account you'd like to risk and how far away your stop loss is from your entry price and the BSI will automatically calculate your lot size!

Once you're a member you'll learn all the best practices and best strategies for getting the most out of this extremely POWERFUL tool!
MT4 Banks Secret Indicator v3.5 can give you trading signals you can take as they are or add your additional chart analysis to filter the signals further, which is recommended. While traders of all experience levels can use this system, it can be beneficial to practice trading on an MT4 demo account until you become consistent and confident enough to go live.
Features
You can set the MT4 Banks Secret Indicator v3.5 to send you a indication by Up and Down with Indication.
This is helpful as it means you do not need to stare at the charts all day waiting for signals to appear, and you can monitor multiple charts all at once.
MT4 Banks Secret Indicator v3.5
System can be used on any Forex currency pair and other assets such as stocks, commodities, cryptos, precious metals, oil, gas, etc. You can also use it on any time frame that suits you best, from the 1 minute through to the 1-month charts.