AW Trend Predictor [Indicator Review]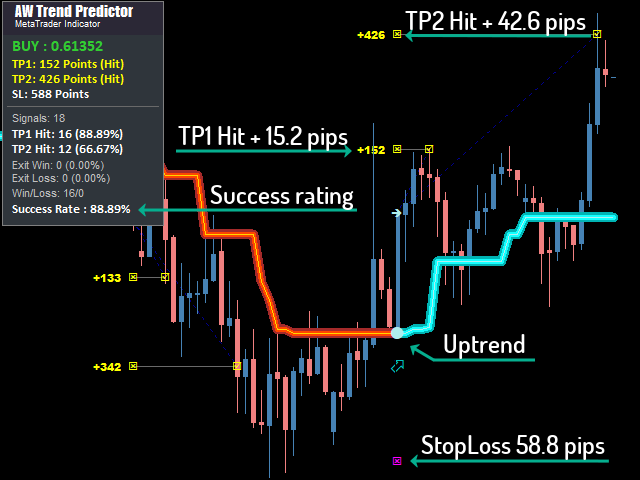 Alexander Nechaev published AW Trend Predictor to the mql5 market in November 2019. The last update was to version 1.20, just a few short weeks after its initial launch.
AW Trend Predictor Overview
As you probably guessed, AW Trend Predictor uses an advanced algorithm to give traders buy signals based upon predicted future trends. The algorithm filters out noise in the market, determines entry and exit levels, and determines trend. The indicator would send a buy-signal to traders when it determines the success rate is greater than 70%. The statistics module also records signals so traders can choose the best tools based on their signal history.
Service Cost
The indicator can be purchased outright at $85 USD or rented for $45 per month. With the purchase, 15 activations are included by the developer. The developer also provides free demo accounts as an alternative way to test out the product without having to pay for it.
Conclusion
AW Trend Predictor considers multiple factors when predicting future trend and sends out buy signals when success rate is over 70%. We didn't find many comments, but there were a few from verified users.
As an example:
I'm testing. Review again in a few weeks. Signals over 70% are solid.
"VERY USEFUL INDICATOR."
The indicator is rated 5 stars, but that's only because there are 6 reviews. We don't know much about the feedback, so we recommend trying out the demo version before purchasing the full version. The overall cost of the product is also a factor. This indicator is a good example of a simple but effective tool that can help traders make money if used correctly.
This Forex service can be found at the following web address: https://www.mql5.com/en/market/product/43299