Best Currency Strength – Indicator Review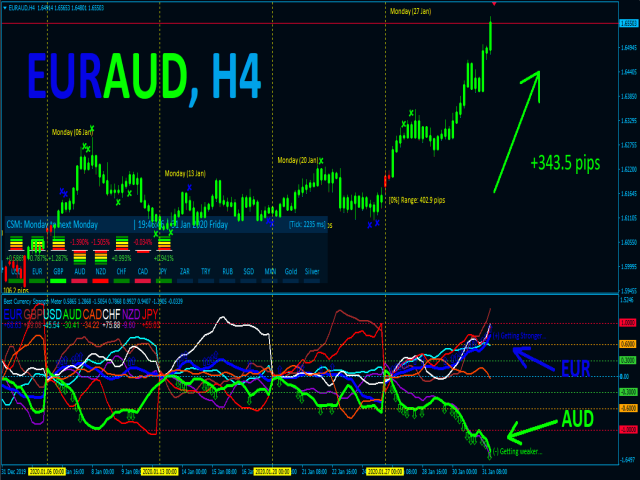 We have included a link to the MQL5 marketplace and website so that there is no doubt as to what indicator we are looking for. The indicator has been updated several times since its first upload on 18th December 2019. It is currently at version 3.8.
Best Currency Strength Overview
The Best Currency Strength indicator is an indicator designed for use with MetaTrader 4. It is a currency strength indicator that breaks down 28 currency pairs into individual currencies. It works on all timeframes. This tool is very useful because it allows you to understand the real movements of the market, and you can buy stronger currencies or sell weaker ones.
The indicator has a few special features:
No more hours spent analyzing charts. The Forex Market can be analyzed in just 1 minute.
Choose the time that you wish to begin calculating currency strength.
Get signals delivered directly to your mobile phone, wherever you are.
Turn on Alerts to be notified of any new signals.
Dashboard for Currency Strength Meter (displays all values, dates, times, and the connection speed in milliseconds).
-Multi-Timeframe Strength of Currency Dashboard (Calculated over all timeframes).
-28 FOREX Pairs + Gold + Silver plus 5 pairs of your choosing (Stocks CFDs, Cryptocurrencies, Indices, or any chart).
Separators for special periods (displaying months, days, and times).
-And more.
You can also change the way the indicator works by changing a number of parameters. These include the prefix and suffix, maximum bars, start time and minute, m alerts and more.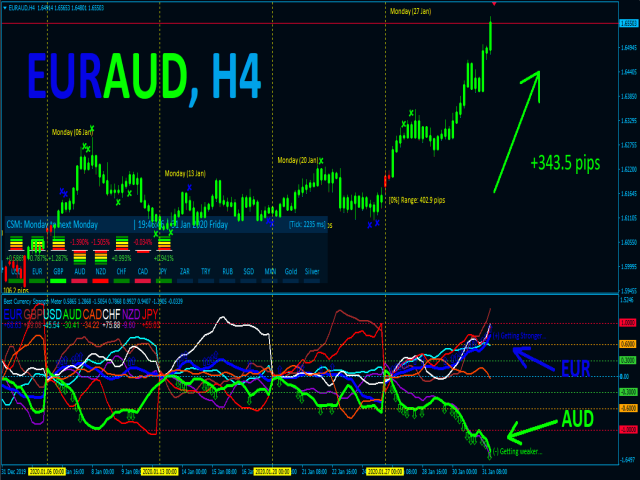 Service Cost
You can buy the indicator in several ways. For $149 you will have unlimited access. Renting it is also an option. Renting it for 3 months will cost $49; renting it for 6 month will cost $79; or renting it for one year will cost $119. You can also download a demo version for free. We are not sure of the limitations but we do know that it may only be compatible with demo accounts.
Conclusion
There are 24 reviews on the Best Currency strength Indicator. They have given it an overall rating of 4.5%.
I will update after a while, but for the meantime, it appears to be impressive." It is impressive .". I will update it after a few days.
"10 stars…This indicator is the best that I have used in the past 2 years… It's easy to use, just follow the cross signal and then execute it…I got 50% profit on the first day… Tomorrow I will hunt again… Excellent …"
"THIS IS A VERY GOOD INDICATOR AND HAS A GREAT POTENTIAL. I EXPRESS GRATITUDE TO THE AUTHOR FOR HIS SUPPORT." Thank you very much for this indicator.
The creator is also very responsive and replies to all comments promptly. This indicates that support should be at a high level. We still recommend you to download the free version and try it out before purchasing.
This Forex service is currently available at the following web address: https://www.mql5.com/en/market/product/34021