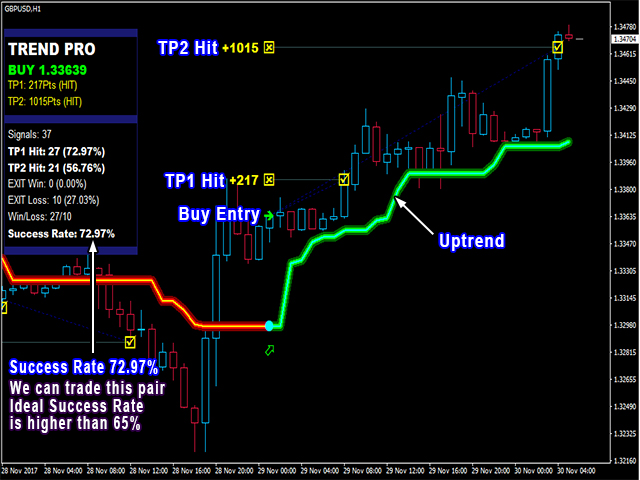 PipFinite Trend Pro MT4 is a trading indicator that you can find on the MQL5 Market. Below we have provided a link to the indicator that we will be reviewing. This indicator was last updated in January 2020. The current version is 3.0.
PipFinite Trend Pro mt4 Overview
This indicator can be used in three simple steps. The indicator will show a trading setup. You can then choose the stop loss, and finally the take profit. This should be simple.
Among the features are:
Trend detection is easy and visual

You can filter your trades and improve them.

Calculation of statistics based on the entry, exit and take profit signals

Never repaint, never back-paint, and never recalculate.

Signals only on "Close of bar"

Work in all symbols and timeframes

Pop-up, email and push notifications are all integrated into one alert.

Compatible with Expert Advisor (EA).
You can also configure other parameters, including the target factors, the maximum historical bars and some graphic changes, like colors.
Service Cost
Renting the indicator for one month is $48. However, renting it for an entire year will cost you $88. Demo versions are also available. They seem to have different features but we're not sure exactly what they are. It is worth trying out demos first before buying.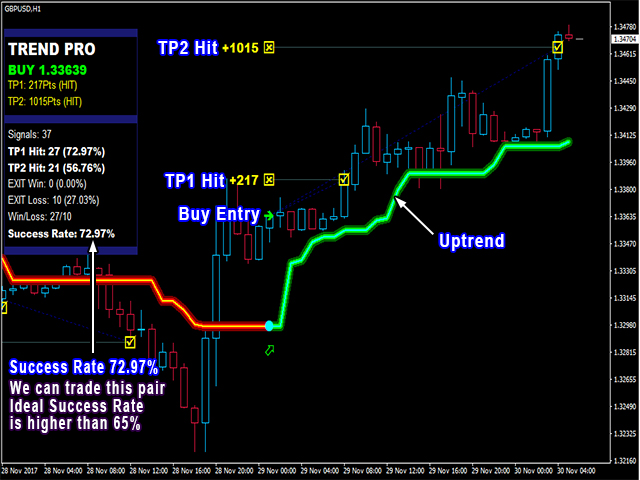 Advantages You Get
Access to the provenly reliable trend indicator based on a massize number of users and reviews.
Easy, visual and effective trend detection.
Gives you the ability to filter and further improve your trading strategies.
Enhanced statistics calculation following the entry point, take profit and exit signal.
Never repaints, never backpaints, never recalculates.
Signals strictly on the "Close of the bar".
Works in any timeframe and financial instrument including forex, cryptocurrencies, metals, stocks, indices.
Integrated pop-up, email, push notification and sound alerts.
Indicator buffers fully compatible with Expert Advisor (EA) development.
How To Trade
No complicated rules, Just follow 3 simple steps!
Step 1: Trade Setup
Enter a signal if Statistics Success Rate is higher than 65% (Statistics Success Rate > 65%).
Step 2: Set Stop Loss
Exit buy signal on a new sell signal.
Exit sell signal on a new buy signal.
Step 3: Set Take Profit
Option 1: Take profit on TP1.
Option 2: Partial take profit on TP1 and close remaining position on TP2.
Option 3: Take profit on opposite signal or riding the trend until it reverses.
Enhanced Statistics Calculation
Win Condition
TP1 Hit – When a signal reaches at least TP1.
EXIT Win – When a trade is closed on opposite signal and resulted to a positive profit.
Loss Condition
Exit Loss – When trade is closed on the opposite signal and resulted to a negative profit.
Success Rate
Percentage of signals which qualified for win condition.
Used as reference to find better trending pairs and timeframes.
Parameters
Period – the number of bars used to calculate the trend.

Period – 2 to 5 when used in entering trades (Entry Indicator).
Period – 6 to 15 when used to filter trades (Filter Indicator).

Target Factor – the multiplier used to calculate take profit levels.

Increasing this value will give more take profit but decreases success rate.
Decreasing this value will gives less profit but increases success rate.

Maximum History Bars – maximum number of bars used for calculation.
Display Parameters – controls the visibility of objects drawn on chart.
Graphics Parameters – controls the appearance and colors of drawn objects on chart.
Dashboard Parameters – controls the visibility and colors of statistics found on chart.
Alert Parameters – controls the alert options enabled.
Conclusion
This indicator has 357 reviews. The first 50 reviews are all 5 stars, which is both a good and bad sign. Software with only 5-star ratings can often be a sign that the reviews are fake. But as you go down the list, there are also some one- to four-star reviews.