Description
Forex Trade Manager is a dynamic tool designed for experienced forex traders. Unlike conventional automatic trading robots or Expert Advisors (EAs), it doesn't make independent trading decisions or open positions. Instead, it serves as an invaluable aid in manual trading, streamlining operations and enhancing decision-making efficiency.
Key Features of Forex Trade Manager:
Position Management and Risk Control
Quick Position Management: Execute opening, closing, or reversing positions with one-click operations.
Risk-based Lot Calculation: Automatically calculate trade volumes based on predefined risk parameters.
Quick Pending Order Placement: Speedily configure pending orders with adjustable parameters.
Breakeven, Trailing Stop, and StopLoss/TakeProfit Setting: Effortlessly configure and adjust Stop Loss (SL), Take Profit (TP), breakeven, and various trailing stop strategies, both pre- and post-trade execution.
Advanced Order Management
3-Level Partial Close & 4 Types of Equity Auto Close: Manage partial or complete position closures based on market performance or user-defined criteria.
Grid Support and Lot Increasing Modes: Leverage advanced grid trading capabilities with multiple lot size strategies and position management.
Hedge Function: Mitigate risks by enabling the opening of hedge positions.
Closing Positions at a Predetermined Time: Schedule the automatic closure of positions at specific times.
Trading Strategy Assistance
Trend Line and Channel Trading: Receive support for initiating positions based on trend line breakthroughs and utilizing equidistant channels.
Dashboard Window & Detailed Position Information: Access real-time market data and in-depth analytics on open positions.
Enhanced Security and Stealth Features
Stealth Mode: Conceal SL and TP levels from brokers for added security.
Spread Maximization: Set maximum spread limits to prevent position initiation under unfavorable conditions.
User Experience and Customization
Customizable Interface & Toolbar: Tailor the layout to your preferences and swiftly access key features.
Alarms & Notifications: Configure alerts for various trading events and position changes.
Daily Profit Information & Screenshot Capture: Track trading performance and capture trade screenshots for record-keeping.
Universal Applicability
Forex Trade Manager is adaptable to a wide range of assets, including Forex currency pairs, commodities, cryptocurrencies, binary options, stock markets, and indices. It offers the flexibility to operate on timeframes that align with your trading strategy, from 1-minute to monthly charts.
The Trade Manager MT4 main window provides access to a range of critical functions, enabling traders to efficiently manage their trades and enhance their trading experience.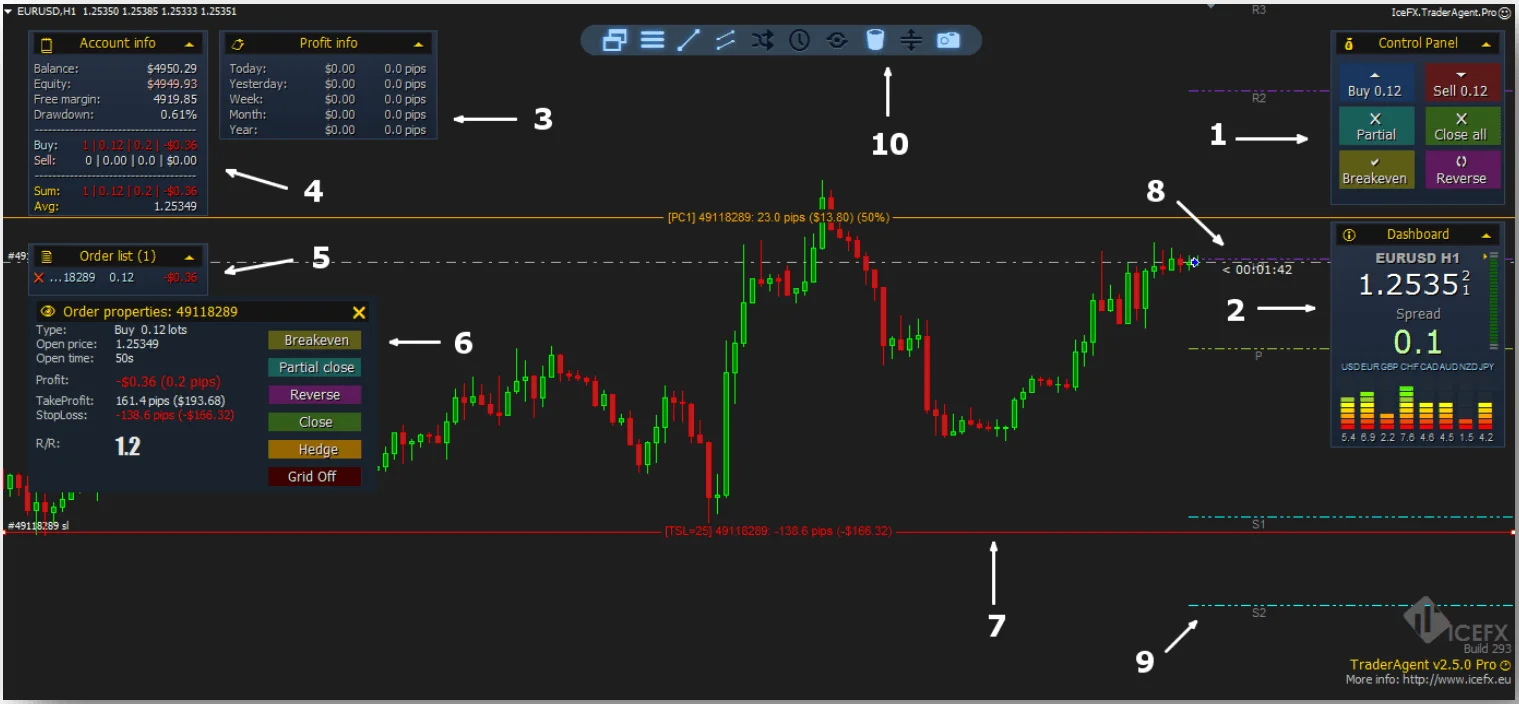 1. Main Control Panel Features
Buy/Sell Options: For opening long or short positions.
Partial Close: To part-close the last position.
Close All: Instantly closes all open positions.
Breakeven, Reverse, and more: For advanced position management.
Dashboard and Additional Windows
Dashboard: Shows bid/ask prices, indicators like MA, CCI, RSI, and currency strengths.
Profit Info Window: Displays profits in pips and currency.
Account Info Window: Current balance, margin, drawdown, and more.
Order List Window: Review and manage open positions.
Order Properties Window: Detailed management options for selected positions.
Additional Features
Guide Lines: For SL, TP, and other adjustments.
Remaining Time to Next Candle: Helps in timing decisions.
Pivot Lines: Display of pivot levels.
Toolbar: Quick access to settings and features.
Toolbar Functions for MT4 Order Manager
The MT4 Order Manager toolbar is streamlined for efficient trading with combined functionalities. Here's a more concise overview:
Display Controls
Windows Show/Hide: Toggle visibility of the manager's windows.
Guide Lines Show/Hide: Control the display of trade management lines (StopLoss, TakeProfit) on the chart.
Trade Initiation Tools
UseTrendLines & UseChannels: Open trades based on trend line and "Equidistant Channel" line breakouts, essential for trend-following strategies.
OppositeTrendLineOrder: This complements the above by offering counter-trend trading options, opening opposite positions on trend line breakouts.
Position Opening Criteria
OpenAfterCandleClose: Choose to open positions based on the candle's closing position in relation to the trend line, adding a layer of confirmation to trades.
OCO mode: Manage multiple trading setups by automatically canceling other orders or trend lines once one is activated, avoiding conflicting positions.
Post-Trade Management & Analysis
DeleteTrendLineAfterOpen: Decide whether to retain or delete trend lines post-position opening for ongoing trade management.
UsePreDefinedStopLoss: Set StopLoss and TakeProfit before trade execution for calculated risk management.
MakeScreenShots: Automatically capture screenshots for record-keeping and performance analysis.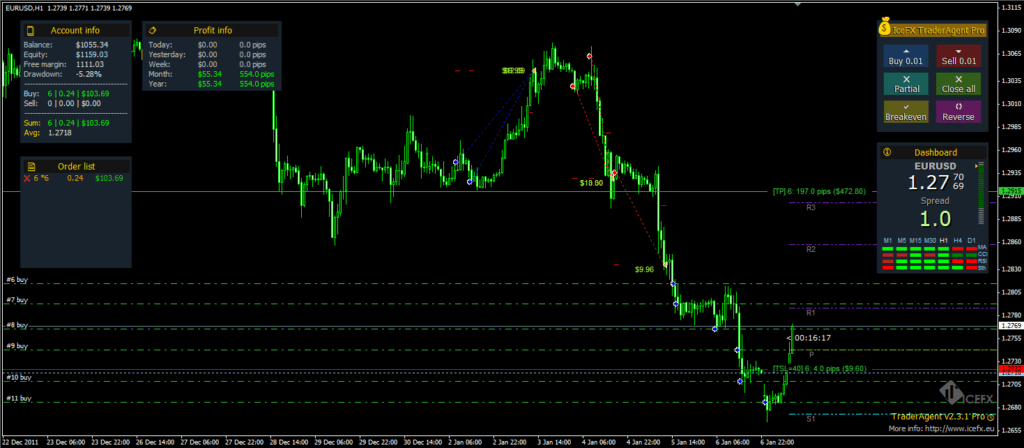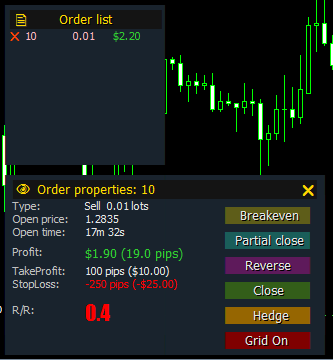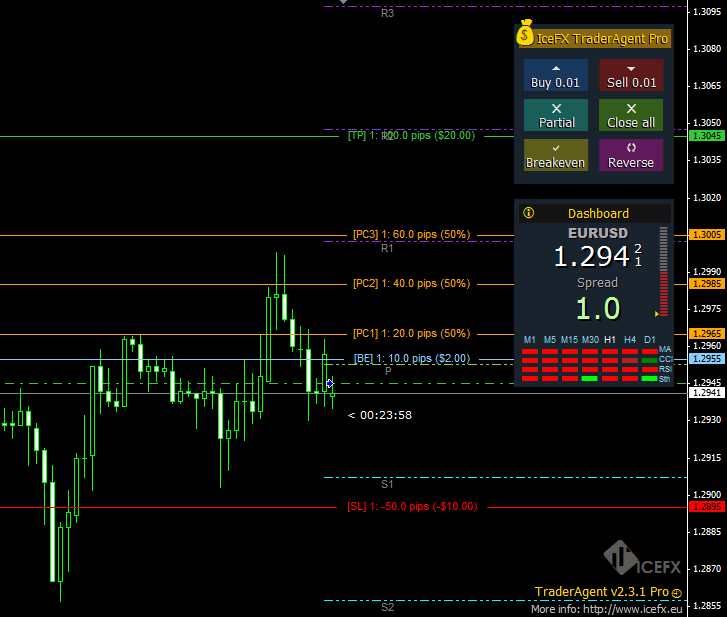 Forex Trade Manager is more than just a trade execution tool; it's a sophisticated, feature-rich system engineered to simplify the complexities of forex trading. It serves as a comprehensive solution for managing, analyzing, and executing trades more effectively. Whether it's through streamlined trade management, advanced risk calculation, or customizable interfaces and alerts, Trade Manager MT4 is tailor-made for professional forex traders who seek efficiency and precision in their trading activities. It empowers you to take your trading to the next level with confidence and ease, enhancing your overall trading experience.