The Elder Impulse System Indicator provides forex trading signals. The indicator uses MACD and Exponential moving averages – EMA to identify the trend strength. It provides a histogram of BULLISH and BEARISH signals. Forex traders can use these indicators to BUY, SELL and have an early exit.
Most traders who use trend trading strategies enter the markets as soon as possible, and stay in the market for extended periods of time, hoping that the trend will continue. Alexander Elder designed his system to enter only after confirmation of the trend and to exit as early as possible, contrary to many technical traders. This is why the NEUTRAL bar appears. Most followers of this system will exit when the Neutral bar appears, but many traders still wait until the opposite signal bar appears to exit. Traders should therefore apply the rules of exit according to their discretion.
The indicator is suitable for both new and experienced forex traders. It can be used on all intraday timeframes and higher time frames, including Daily, Weekly, Monthly charts.
Elder Impulse System Indicator for MT4 Trading Setup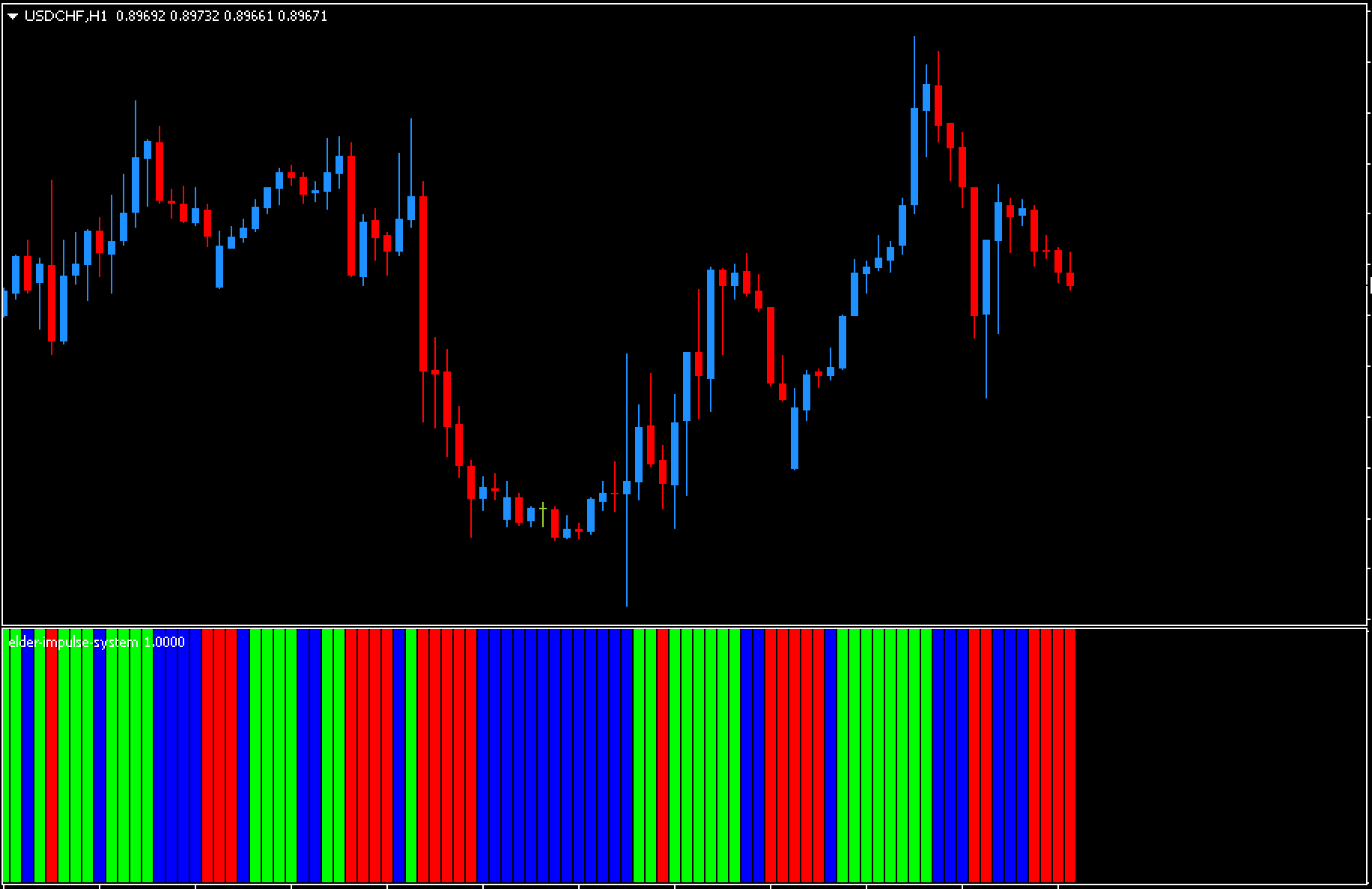 The indicator shows a three-color bar histogram, with BULLISH bars in GREEN and BEARISH in RED.
If the histogram displays a GREEN BULLISH line, then forex traders should take a BUY trade. The best stop-loss is below the swing low. Traders can also book profits if their histogram changes from BLUE neutral bar to RED BEARISH.
Similarly, a RED bar on the histogram indicates a BEARISH environment. Forex traders should sell with a stop-loss above the previous high. The traders can also exit the position if the color of the histogram changes to BLUE, GREEN or GREEN.
The Elder Impulse trading system is a trend-following system. For best trading results, forex traders should use a top-down technical analysis. The trend tends to be longer in higher timeframes. Technical traders in forex should use the higher timeframe to determine trend direction. Alexander Elder recommends the use of two different timeframes. Alexander Elder recommends using two different time frames: one to identify the trend, and the other for entering and exiting the market. Moreover, the higher timeframe for trend identification should also be 5 times greater in comparison to the trading timeframe.
Forex traders should use the lower timeframe chart to find the best entry points.
Conclusion
The Elder Impulse System indicator for MT4 is a great tool for forex traders who use trend-following technical strategies. Forex traders can confirm their signals by using price action, trend lines, trendlines, or support and resistance lines. The indicator is also free to download and simple to install.