Forex99 EA works based on Keltner Channels Breakout Strategy. It also combines a few technical advanced strategies to maximize profit while maintaining a low drawdown. Forex99 EA uses the Keltner Channels, and Heiken Ashi Indicators to determine the parameters. Forex 99 EA does not use any risky strategies such as martingale and heading.
The developers claim that Forex99 EA is the result of their analyses of forex strategies and 10+ years testing. It has now started to produce its results. Forex99 EA, as mentioned above is solely based upon the Keltner Channels breakout strategy. It is also combined with a few secret technical techniques to make orders fall in profit.
Profits per chart of between 15% and 30% per month are expected. Forex99 EA has been optimized and only requires the set file.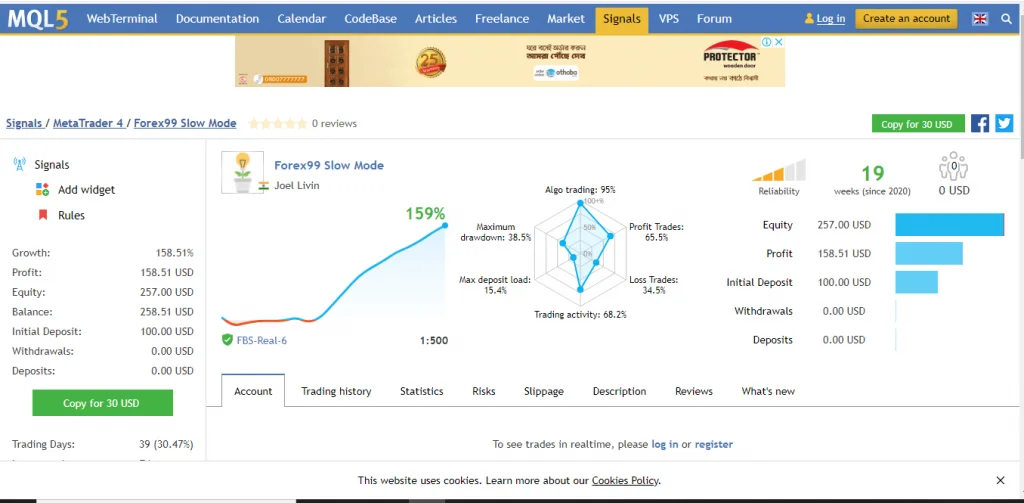 Recommendations
Work best with GBPUSD (but it can be traded on any chart).

Minimum account balance of 200$ per pair (1000$ if using all 5 pairs recommended)
Work best with 30M time frames.
Low Spread ECN account is also recommended (Find the Perfect Broker For You Here)
Input Parameters
AutoStart

True – The EA will start trading on fully auto mode
False – When you want to stop the EA, it will manage to complete the present phase of trading, and a new cycle will not be started.

OrderExpiry_Hrs – The breakout orders (First) stop order, and if it not triggered within 4 hrs, it will be deleted
SlowMode

True – The EA is on Slow mode [Stable Profit]
False – The EA is on Fast mode [ Aggressive mode and not stable]

Start_Lot – This will be in effect when Auto_Lot_Calc is False.
OrderControl – The EA will make the 2nd order after x bars created since the first order bar
GapBTWorders – The minimum Gap between 2 successive orders
TP_Points – The Take profit in Points
TrailingStart – The Trailing will start when positive floating points is more than this value
TrailingGap – The gap between trailing stop and the current price
Auto_Lot_Calc

True – the start_lot will be based on the balance of the account
False- the start_Lot is set by the user

Risk_Percentage – When Auto_lot_calc is True, the start_lot will be calculated based on equity
Close_atEquityPErcentage – When the EA is opened in multiple charts, and the profit exceeds 10% of initial deposit , all orders opened by EA will be closed
KC_Breakout_Period – Keltner Channel Period for breakout calculation
KC_Intermediate_Period – Keltner Channel period for intermediate Orders
KC_Nonbreakout_Period – Keltner Channel Period for Non-Breakout orders
RSI_SellLimit – In Fast mode, Sell orders are based on this value
RSI_BuyLimit – In Slow mode, buy orders are based on this value.
SpreadLimit – If spread is more than this value, the orders will be placed. This will protect from high volatility time in the market.
Initial_Deposit – The Close_atEquityPercentage is calculated by Initial_Deposit