Traide Ringer is an Expert Advisor (EA) designed to simplify and streamline forex trading. It offers traders a straightforward setup that takes less than 10 minutes to configure, making it accessible for traders of various experience levels. The EA is preloaded with optimized settings, allowing traders to quickly put it into action. It operates based on proven logic to determine the most suitable entry and exit points for trades.
The increasing use of EAs in the forex market, especially those utilizing AI, has shown promise in delivering successful trading outcomes compared to manual trading alone. Traide Ringer is part of this trend and is available for traders looking to enhance their trading strategies with automated tools.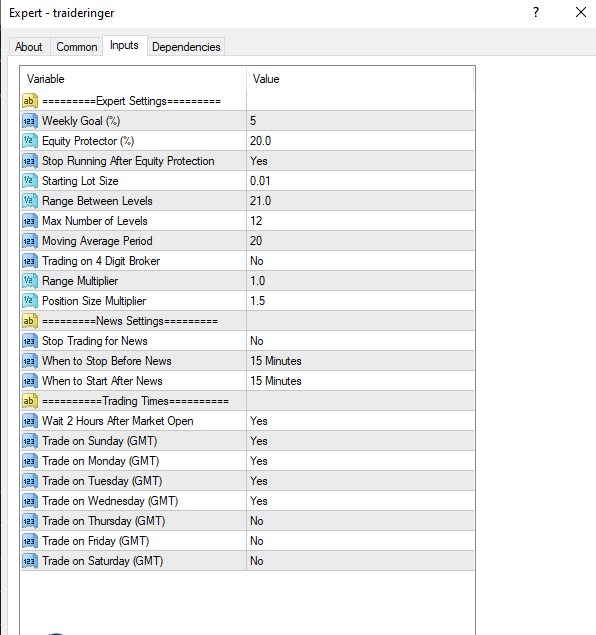 Key Features of Traide Ringer Expert Advisor
Simple Setup: Traide Ringer can be configured in less than 10 minutes, ensuring a quick and straightforward installation process.
Fully Optimized: The EA comes with preloaded settings that are ready to use, eliminating the need for extensive customization.
Proven Logic: It uses a logic-based approach to identify the most effective entry and exit points for trading, based on historical data and analysis.
Accurate Wedge Alerts: Traide Ringer provides accurate wedge alerts throughout the trading day, enabling traders to execute the trades they desire.
Grid-Based: The EA utilizes a grid-based trading strategy.
High Time Frames: It is compatible with higher timeframes for a longer-term trading approach.
Recovery System: The EA incorporates a recovery system to manage drawdown and navigate adverse market conditions.
Traide Runner Expert Advisor
Traide Runner is another Expert Advisor with similar features:
Simple Setup: Quick and easy installation, taking less than 10 minutes.
Fully Optimized: Preloaded settings are ready for immediate use.
Drawdown is a natural part of trading and should not cause undue concern. However, traders should exercise responsibility and make informed decisions to minimize drawdown at critical times.
The expectations for floating drawdown are as follows:
0.01 per $1,000 (Recommended): Floating drawdown expectation of 2-5%, with a recommended equity protector of 20-25.
0.02 per $1,000 (Medium Risk, Higher than Recommended): Floating drawdown expectation of 3-8%, with a recommended equity protector of 25-30.
0.04 per $1,000 (HIGH RISK, Aggressive; Not Recommended unless account size is $3,000): Floating drawdown expectation of 6-15%, with a recommended equity protector of 30.
It's important to note that certain factors can lead to unexpected drawdown, including news events that cause high market volatility and low liquidity times such as bank holidays, in-between sessions, and Fridays. Low liquidity results in smaller market movements, potentially affecting trading outcomes. Traders should consider these factors when using Traide Ringer and Traide Runner to make informed trading decisions.