The momentum indicator, the PPO indicator for M4 is similar to the MACD indicator. The calculation method is the main difference between the MACD indicator and the PPO indicator. The MACD calculates absolute differences between moving averages. The indicator calculates percentage differences between them. Forex traders can use PPO to identify market conditions, trends, divergences and bearish/bullish market conditions.
The PPO indicator for MT4 can be used by both novice and experienced forex traders, as it is very similar to the MACD. The same trading strategies can be used by new traders as the MACD indicator. Advanced forex traders can also use the indicator to create auto trading strategies.
This indicator can be used by traders to apply to any chart time frame, including intraday charts, daily, weekly and monthly charts. Forex traders can also download the indicator free of charge and easily install it.
PPO Indicator For MT4 Trading Signals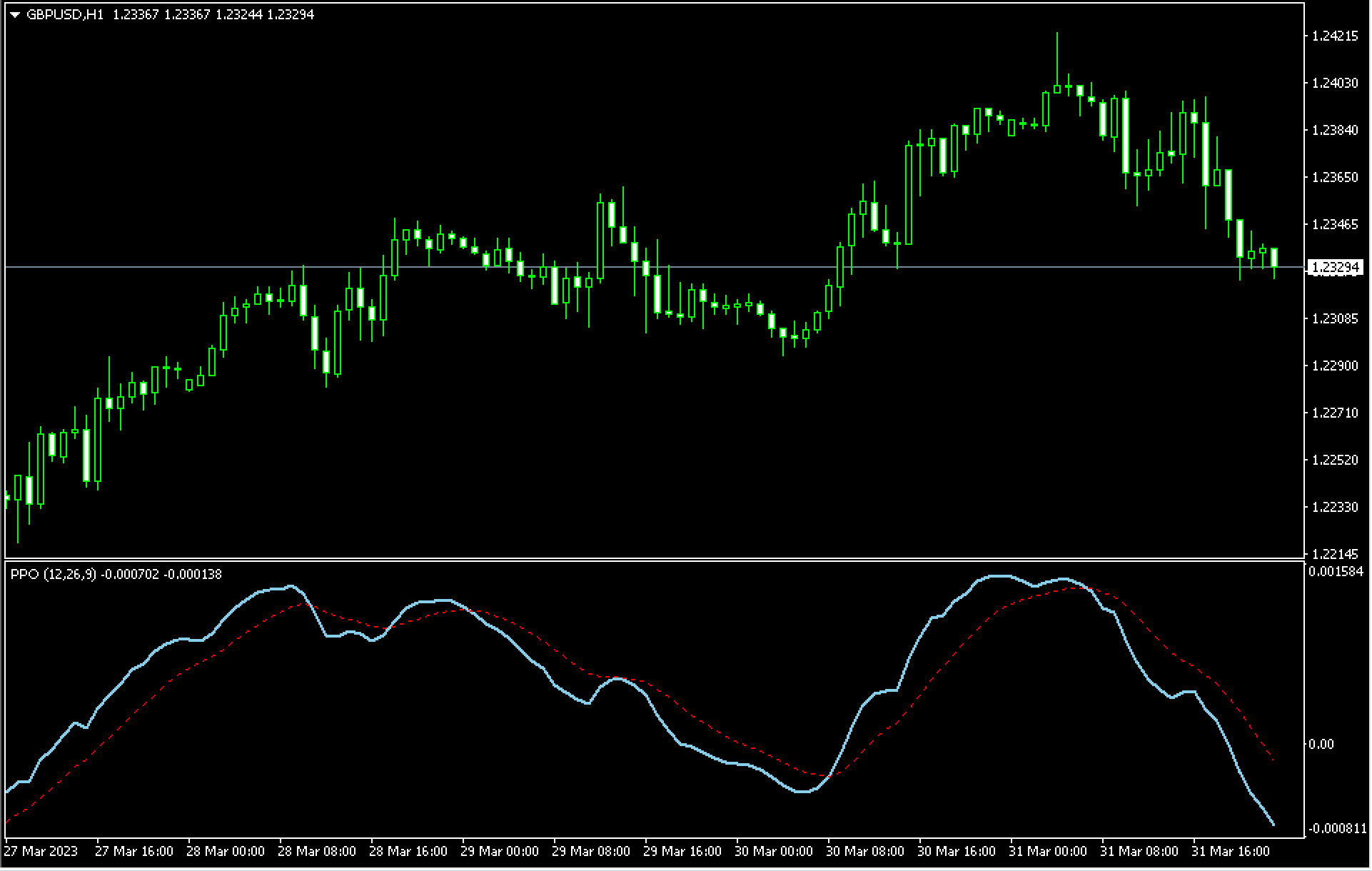 The indicator plots both the signal line and the line. The indicator can be used by forex traders in many ways. First, the indicator can be used to identify buy and sell signals by crossing the signal line and PPO lines. Bullish signals are those where the PPO line crosses above the signal line. Forex traders should buy a trade and place a stop loss at the swing low.
Similar to the above, a bearish signal is issued when the PPO line crosses below the signal line. Forex traders should always enter the market in a sell position. Next, traders can use the crossover of the Zero and PPO lines. A bullish trend is indicated when the indicator line crosses over the zero line. Forex traders should buy with a stop loss lower than the swing low.
Similar to the previous example, if the PPO line crosses below the zero line it is a bearish market. Therefore, traders should enter the market in a sell position and have a stop loss greater than the swing high. Divergence and convergence are the next most popular trading signals. Trading signals are provided by divergence and convergence in advance. The indicator is a leading indicator that helps forex traders identify the best entry points.
Another important feature is momentum, which is measured by distance between the zero line and the PPO line. All these features make it clear that this indicator is more of a trading system than an indicator on its own.
Conclusion
The PPO indicator is a modified version of the MACD. The PPO indicator for MT4 has the same drawbacks that the MACD, so traders need to be cautious when executing the signals. Forex traders should use the bullish and bearish signals to trade in conjunction with other technical indicators.