The MT4 order block breaker indicator provides important information about the market structure. This indicator indicates major momentum exhaustion and trend reversal points. Forex traders can then identify Bullish or Bearish price reversal areas and BUY or SELL accordingly. The indicator also provides alerts when a trading signal becomes available.
An order block refers to a market structure which is used to identify the last Bearish candle prior to a Bullish price movement and vice versa. These order blocks are used by traders to provide support and resistance when they anticipate that the price will change direction. This indicator is suitable for experienced traders. New traders can gain some experience with the indicator. This indicator is useful in both intraday and daily price charts.
Order Block Breaker Indicator For MT4 Trading Signals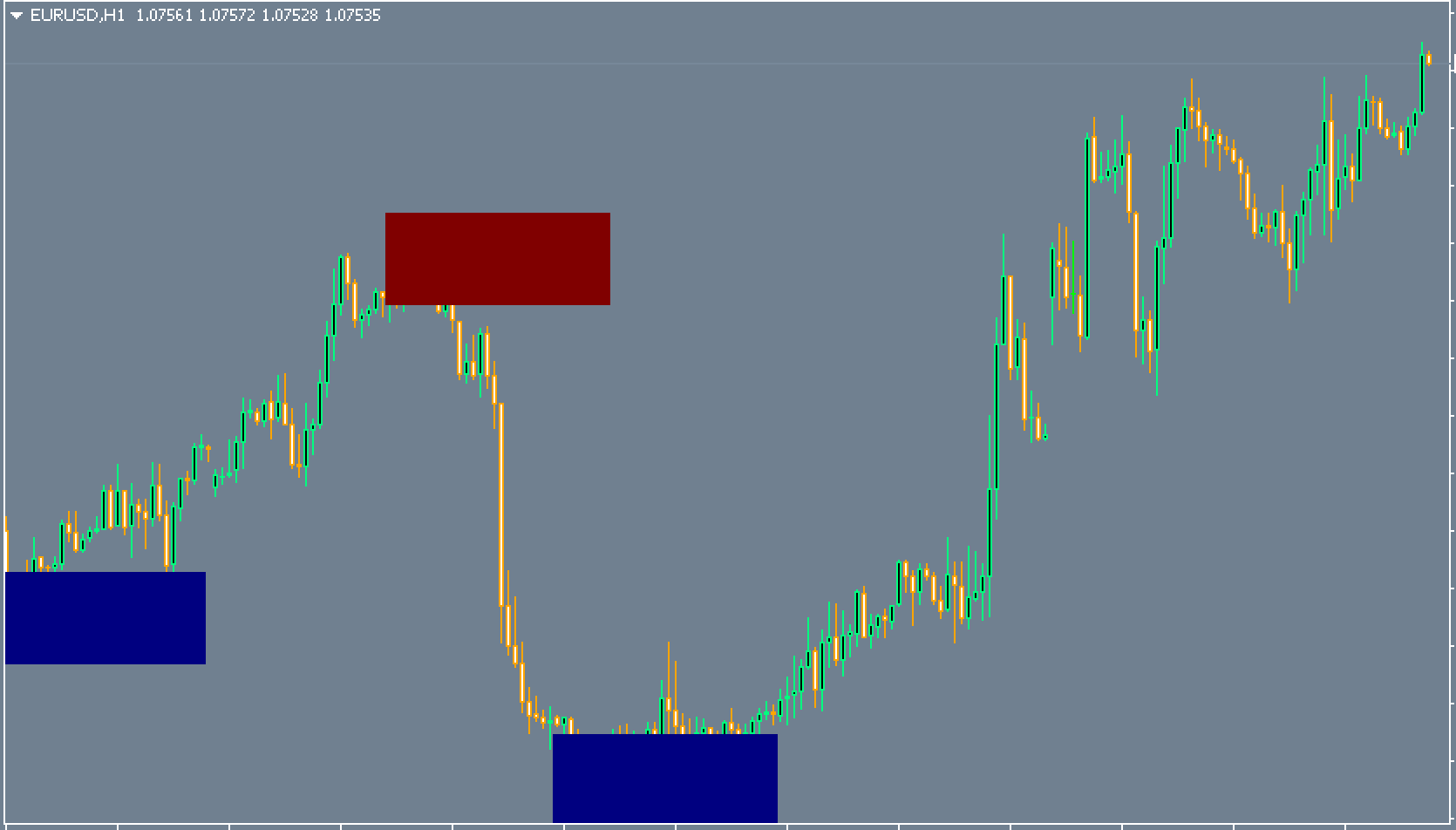 The indicator shows the Bullish order blocks for NAVY BLUE, and the Bearish order blocks for MAROON. The indicator can also send push notifications, sound and message alerts. These can be set up according to user needs in the indicator settings.
The possible price reversal is indicated if the price moves into the Bullish or Bullish order blocks. Technical traders should seek a BUY entry level based on price action within Bullish order blocks. Bullish order blocks trading is supported by all technical indicators. Technical trading strategies that validate support are also available for Bullish order blocks trading. Stop loss should be below the order block, or at the swing low. Take-profit positions can be based on the risk/reward ratio, or the nearest resistance.
Forex traders should also place a Sell position if the price moves into a Bearish zone. The market will likely reverse. Based on price action, the Bearish zone has the best entry. The best results are achieved by placing a stop-loss at the order block or previous swing high. Traders should seek to book profits that have a high risk-reward ratio.
The order block is usually a zone, not a single point or line. Forex traders need to pay attention to the order block and respond appropriately within that area. Breaking the order block signals a possible reversal point in the trend's counter-trend direction. The order blocks that follow the trend of the past are more rewarding and offer a better risk-to-reward ratio.
Conclusion
The Order Block Breaker indicator MT4 is very similar to support or resistance. These levels are easily reversible by price, which is due to the price action at these levels. Forex traders need to use other technical indicators and price movement for confirmation of the BUY or SELL trading signals. The indicator is also free to download and simple to install.