The WayGrow EA has become a popular tool among traders who are looking to automate their trading on MT4 platforms.
This powerful software was designed to analyze trends in the market and execute trades automatically, allowing individuals to focus on other areas of their business. WayGrow EA is a powerful trading tool for both novices and experienced traders. Its user-friendly interface, combined with advanced algorithms can be used by both.
WayGrow EA Strategy
The WayGrow EA uses an envelope indicator to identify potential breakout zones. It also uses a three-day moving average weighted to determine the current market trend.
A moving average strategy combined with price envelopes is a powerful tool to help you make informed investment decisions. Setting upper and lower limits based on the Moving Average allows you to track a stock's performance, and determine if it is undervalued or overvalued.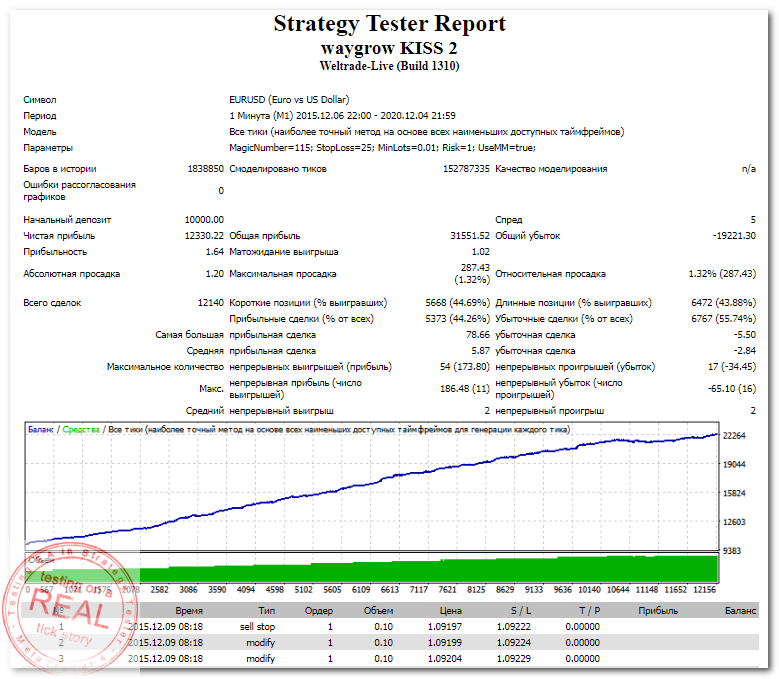 WayGrow EA Features
Timeframe: M1, M5.

Currency pairs: EURUSD (Euro), GBPUSD (pound sterling), USDJPY (dollar yen), AUDUSD and NZDUSD.

Take profit and loss modes for active and pending order are separate.

Weighted Moving Average Filter

Use the envelope indicator to identify the zones of buy/sell.

Price slippage protection and maximum spread.

Money management built-in features

Maximum trade limit.

Beginner-friendly.
WayGrow EA MT4 settings
Filter Period of signal filtering for the EA.
Magic number – Unique identification code of the software.
TradeComment– Enable/disable automated trade comments.
StopLoss Fixed stop loss in pip.
NoTrade_Profit_yet_Filter – Pending order filter periods.
NoTrade_Profit_yet_StopLoss – Stop loss for pending orders.
NoTrade_Profit_yet_Distance – Minimum distance between the current price and the pending order.
InTrade_Profit_Filter – Active order profit filter period.
InTrade_Profit_StopLoss – Secondary stop loss for active trades.
InTrade_Profit_Distance – Secondary take profit target for the active orders.
Timeout_Pending_Orders – Active period of pending orders.
Slippage Closing – Maximum price slippage that will force an order to be cancelled.
Trailing– Enable/disable trailing stop.
Trailing Start – Minimum trailing stop period.
Trailing distance – Minimum distance between price and trailing stop level.
Trailing step – Enter the value of the trailing steps.
Min Lots – Minimum trading lot size.
Max Lots – Maximum trading lot size.
Risk: Adjust the risk factor to suit your trading strategy.
Fixed Lot – Minimum fixed trading lots size.
Use the MM feature to enable/disable risk management.
Max spread plus commission – Maximum spread plus commission that can be used to activate an order.
Limit– Maximum number of open trades.
MA Period Moving Average Period Value
MA Method Select the method for calculating the moving average.
Start Time – Auto-activation Hour of the EA.
End hour – Auto-shutdown time of the EA.
Indicator Select the indicator that you wish to use as secondary trading signal filter.
Timeframe for Envelope – Set the timeframe of the envelope indicator.
Method of Calculating Envelopes Select the envelope method.
Env.-Upper price mode – Price mode for higher envelopes.
Lower Env-Price Mode– Price mode for lower envelope.
Envelopes period – Input the envelope value.
Envelopes Deviation — Deviation period for envelopes.
The conclusion of the article is:
WayGrow EA is a proven and reliable tool for traders who want to automate trading strategies. The advanced algorithms and features of WayGrow EA give traders a competitive advantage in the forex markets, allowing them to make informed decisions and maximize their profits. WayGrow EA's user-friendly interface, customizable settings and powerful features make it a valuable tool for traders at all levels. I would recommend WayGrow EA to anyone who wants to maximize their trading performance.